DO YOU WANT TO AVOID CHIPPED PAINTWORK?

We advise that customers use our new 'VENTURE SHIELD' paintwork protection in order to avoid stone chipping. This is especially important for those colour matched parts that sit low to the ground. We feel that 'VENTURE SHIELD' is the most cost-effective paintwork protection solution on the market, providing an almost invisible protective barrier once applied. Search product code 08023A for more info






Click large image to zoom
Harley Carbon Extenda Fenda
---
Fits Years: ALL
Product Code:
058600A
Stock:[ 2 ]
£24.74
Click here to view the fitting instructions for this product
---
---
---
Description
---
Real carbon Extenda Fenda manufactured by Pyramid to fit the Harley thin front fender.

SUPPLIED AS STICK FIT ONLY - HIGH BOND ADHESIVE TAPE SUPPLIED WITH PRODUCT

Please note : image may be for illustration purposes only.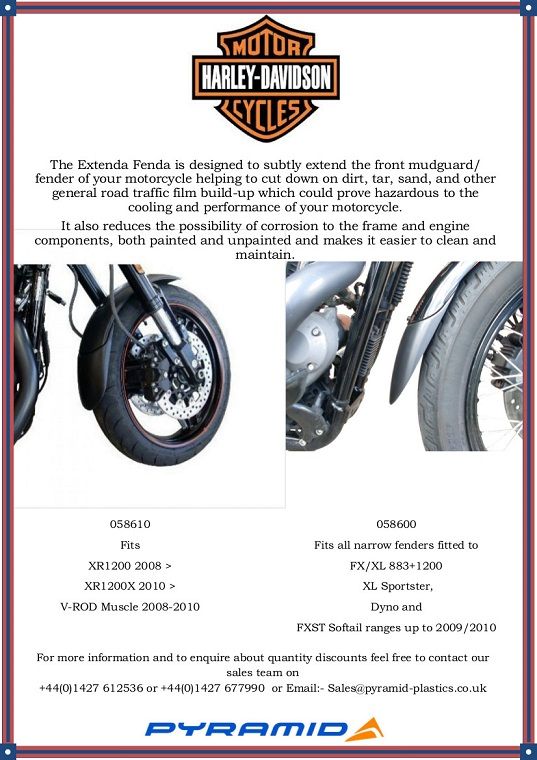 Current rating: 10 / 10

There are currently no reviews of this accessory!


Click here to write a review
Please note: Images may be for illustration purposes only

Please contact our sales team on 01427 677990 or email us at sales@pyramid-plastics.co.uk if you require any further information or assistance.

Please note that unless otherwise stated all accessories have been designed to fit the standard bike.